Aquarelle Base White - 6 ml
What is Aquarelle?
Thanks to the Aquarelle collection, you will conjure up small works of art.
The time has come to fully release your creative potential.
Effective designs no longer require talent or a lot of experience.
The Aquarelle hybrid base will make nail art easier. All you have to do is apply a white base on a bright hybrid varnish and without curing go to styling.
Just a few moves of a brush with colorful Aquarelle varnish will create the most beautiful rose or a colorful butterfly.
You are limited only by your own imagination.
Feel like a real master in decorating your nails. Impress your friends with self made patterns.

Join the Aquarell revolution of NeoNail :) This breakthrough collection consists of 6 transparent colors (Raspberry, Ruby, Purple, Violet, Navy, Emerald) and 6 shades with a more intense pigment (White, Pink, Lavender, Fuchsia, Blue, Black) and two bases: White and Clear .
Are you taking the first steps in the world of hybrid manicure? We are happy to show you the way.
Take a look here and learn about simple ways to apply.
Aquarelle collection description
Applying this innovative gel will give you unique effects.
Discover decorations that are not lifeless. Create multidimensional stylizations.
Eye-catching designs such as Ombre liquid, refined Blur Effect and Marble effect will come with child's ease. Now it is as easy as playing with watercolours.
Warning! You can get addicted from Aquarelle :)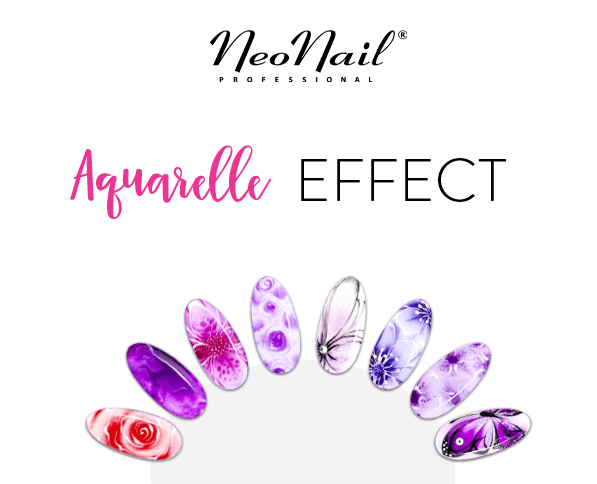 * NOTE: The colours in the pictures may differ from the actual ones due to the individual settings of the monitor.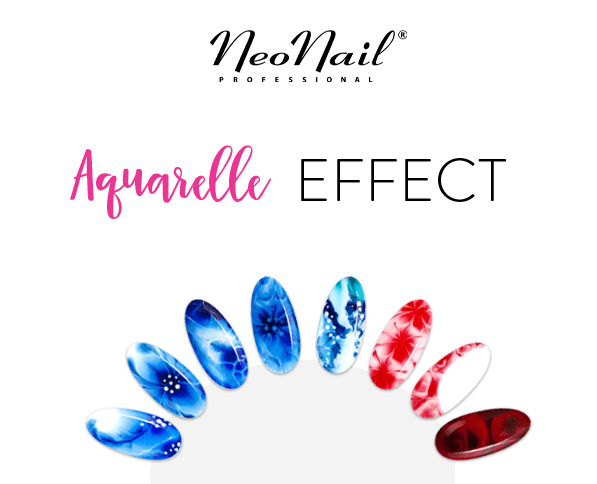 APPLICATION
1. Gently polish the nail plate with a polishing pad. Apply Hard Base orBase Extra and cure according to the table.
2. Apply the colour from the standard NeoNail collection of gel polish in 2 thin layers - each time cure in the LED or UV lamp, according to the table.
3. Apply Aquarelle Base Clear (if the colour is different from white) or Aquarelle Base White (if the colour is white), do not cure.
4. Choose the Aquarelle colour, put in a small amount on the crystal pad. Use a thin brush to make a pattern, then cure according to the table in the LED lamp or UV lamp.
5. To lengthen the durability of manicure made with Aqaurelle lacquer, apply two Hard Top layers. In case of increased exposure to sunlight or the use of sunbed we recommend applying one layer of Hard Top and the second layer of Top Sunblocker. After curing, wipe the sticky layer with a cleaner.